Mahesh Krishnan, MD, MBA, MPH, FASN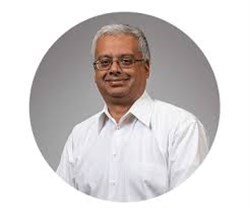 Mahesh Krishnan MD MPH is currently the Vice President of Clinical Research for DaVita.
Dr. Krishnan is well experienced in healthcare. He is currently in the Office of the Chief Medical Officer at Davita Healthcare Partners, and is the Vice President of Clinical Research. Previously, he served as the Executive Director of Medical Policy, Nephrology Therapeutic Area Head for Global Health Economics, and Global Development Leader for Epogen(R) at AMGEN Inc. During his tenure with AMGEN, he played an important role in the 2007 FDA Cardio Renal Drug Advisory Panel for Erythropoietic Stimulating Agents, served as the primary contact for the Dialysis Outcomes Practice Patterns Study, and led many important research projects focused on observational research and dialysis care. He was the founder and managing partner of the Clinical Consulting and Research Center in Fairfax, VA, and prior to that, was in practice in Northern Virginia for nearly five years.
After receiving his bachelor's degree in premedicine from Penn State University, Krishnan earned his medical degree from The Jefferson Medical College at Thomas Jefferson University. He also holds a master's degree in Public Health from Johns Hopkins University and completed the Health Management Program for Community-Based Nephrologists at Duke University's Fuqua School of Business. Additionally, he has completed an MBA in Medical Services Management at the Johns Hopkins Carey School of Business in Baltimore, MD.
Dr. Krishnan is a member of the American College of Physicians, American Medical Association, American Society of Nephrology and National Kidney Foundation. He currently serves on the editorial board of Nephrology News and Issues and his writing has been published many times in renal care and research publications around the world.
KHI Member support provided by: DaVita Healthcare Partners, Inc.