Amanda Grandinetti, MPH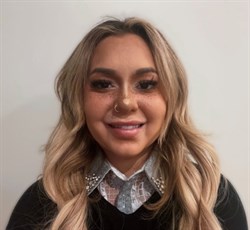 Amanda Grandinetti, MPH, is a senior research analyst in a medical specialty where she leads the development, implementation, and evaluation of quality measures. She has also been involved in the development of clinical practice guidelines and qualified clinical data registries. Amanda has dedicated her career to helping physicians improve their quality of care and helping patients gain access to high quality and low-cost healthcare. Her passion is not just a hobby; it is a way of life. She is dedicated to helping kidney patients in whatever way she can.
Amanda has had FSGS for the past 13 years. Her kidneys failed as a senior in undergraduate studies and she was placed on hemodialysis. She received a kidney from a friend in 2013, but the transplant was ultimately unsuccessful after three short weeks. She was placed on peritoneal dialysis and began studying for her master's degree. Amanda received her second transplant from another friend in 2014, and has had 100% kidney function ever since.
Amanda also currently works with NephCure Kidney International and the National Kidney Foundation (NKF) to advocate for policy and research. Amanda is a committee member of the Public Policy Committee in the NKF and has worked on other projects within NKF, such as their Chronic Kidney Disease Innovation Model. She has also been involved in Technical Expert Panels led by the University of Michigan Kidney Epidemiology Cost Center and the Centers of Medicare and Medicaid regarding the Five Star Dialysis Facility Compare for End-Stage Renal Disease and the development of patient reported outcomes in dialysis.
Amanda believes her diverse background and as a professional in clinical quality will provide a unique perspective in the Patient and Family Partnership Council.