Richard David Fissel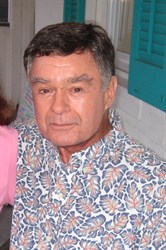 Richard Fissel presented with Focal Segmental Glomerulosclerosis (FSGS) following a kidney biopsy in January 2012. CellCept helped delay dialysis until kidney function reached 6% and he started treatments in February 2014. He had been on the transplant list at Christiana Medical Center in Newark and The Kidney Project at U.C. San Francisco for nearly four years. Thanks to the kindness of a generous donor and family Richard received a kidney transplant at Christiana on January 1, 2018.
Richard began research on FSGS immediately following his diagnosis and discovered NephCure Kidney International, an organization focused on finding a cure for FSGS and Nephrotic Symptom. After moving from Orange County to Delaware in 2013, he became a patient volunteer at NephCure's headquarters in Pennsylvania, joining their patient registry, attending area patient lunch and learns, assisting with marketing material, working the annual Countdown to a Cure fundraising gala in NYC, and meeting with senate and congressional offices to advocate for additional kidney research funding.
Early in 2015, NephCure nominated Richard to be on the Patient and Family Partnership Council of the Kidney Health Initiative. He served on the program committee for the Fourth and Sixth Annual KHI Stakeholders Meeting. He currently participates as a patient advisor to UNC for a PCORI grant, UCSF for the Kidney Project, and is on the KHI Patient Advisory Council for the KHI RRT Roadmap. He also serves as the new editor for the PFPC E-Newsletter.
Richard graduated from Dickinson College with degrees in economics and political science and spent his career in sales and marketing management for companies including H.J. Heinz, Coats and Clark, AdSat and Time Warner Business Services. He and his wife Mary Lu have two adult children and reside in Newark, DE.