Jesse Roach, MD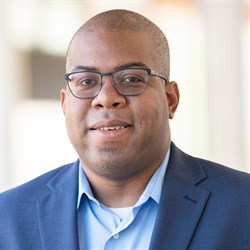 Dr. Jesse Roach is currently a nephrologist and medical officer at the Centers for Medicare and Medicaid Services (CMS) in the Center for Clinical Standards and Quality (CCSQ). He works in the Quality Measurement and Value Based Incentives Group.
Prior to coming to CMS, Dr. Roach worked in the FDA at the Center for Drug Evaluation and Research in the Office of Generic Drugs. Dr. Roach was also previously on the faculty in the Departments of Pediatrics and Internal Medicine at the University of Wisconsin School of Public Health.
Dr. Roach received his medical degree and completed a residency in Internal Medicine and Pediatrics at the Medical University of South Carolina. He completed a combined fellowship in pediatric and adult nephrology at the University of Michigan Medical School.
Dr. Roach is currently an active member of the American Society of Nephrology as well as the American Society of Pediatric Nephrology.