Martin Gerber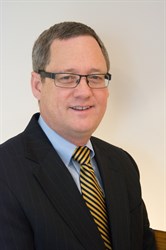 Martin Gerber is Vice President of R&D for Medtronic's Renal Care Solutions business where he is responsible for leading a global R&D organization which is focused on improving outcomes, access, and quality of life for patients affected by renal disease and other acute conditions. He has been working on the development of new renal care therapies and products since 2010.
Martin is an electrical engineer by training and has been with Medtronic for 30 years in various engineering and management roles. He worked for 10 years on the development of implantable defibrillation systems and then moved to the Neuromodulation Business where he developed new therapies and products for various neurological disorders including voiding dysfunction, deep brain stimulation, and pain syndromes.
In 2010, Martin was inducted as a fellow to the Bakken Society; established and named after Medtronic's founder Earl Bakken. It is the corporation's highest technical honor recognizing the highest contributing technical personnel.
Martin has a BSEE from South Dakota School of Mines and Technology and a MBA from the University of St. Thomas.