Katrin Uhlig, MD, MS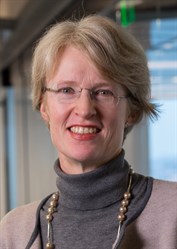 Dr. Katrin Uhlig, MD, MS is a Senior Medical Director, Rare Genetic Diseases (RGD), at Agios Pharmaceuticals. She provides medical-scientific leadership in the design and execution of clinical research and development programs. This includes strategic and tactical medical-scientific input to the RGD clinical development teams in the conduct of related trials, NDA and filing activities, and to the discovery teams from early discovery to development candidates to IND submission. She serves as a liaison between company and clinical investigators and establish credible relationships with opinion leaders, and regulatory officials.
Dr. Uhlig received her medical degree from Aachen University, Germany. She completed an internal medicine residency at Georgetown Medical center, rheumatology fellowship at Munich University Hospital, a clinical and research fellowship in nephrology at Tufts Medical Center and a Master of Clinical Research at the Sackler School of Graduate Biomedical Sciences, Tufts University, Boston, MA. Dr. Uhlig is board certified in Nephrology and Rheumatology.
For 10+ years, Dr. Uhlig worked as an academic nephrologist and physician scientist at Tufts Medical Center, where she remains affiliated as an Adjunct Associate Professor at Tufts University School of Medicine, Boston. She has led guideline development and synthesized evidence in all major therapeutic areas in nephrology. In 2014, her contributions as a guideline methodologist were recognized with the Garabed Eknoyan award of the National Kidney Foundation. Dr. Uhlig is well published and has presented her work at local, national, and international meetings.
In 2003, Dr. Uhlig transitioned into industry where she developed her interest in drug development, first as an epidemiologist and a medical advisor at IQVIA (previously Quintiles), a global CRO, then as a Senior Medical Director in Clinical Development at Keryx Biopharmaceuticals and now at Agios. She is a member of the Board of Directors of the Kidney Health Initiative (KHI) and a co-chair for the KHI workgroup on Overcoming Barriers to Drug Development in Children with Chronic Kidney Disease.